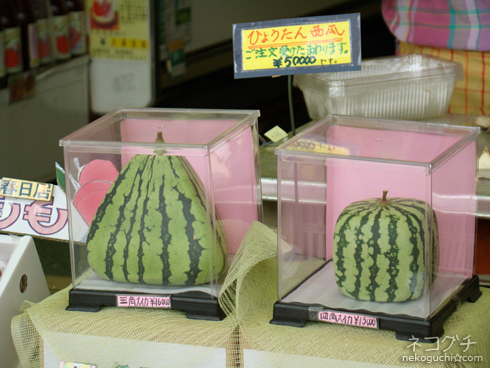 Okay this comes as a "little" late as I dawdle about suffering from summer holiday withdrawal syndrome. I went to a few places over the last couple of WEEKS and snapped up a quarter of a tone of images and then conveniently tucked them in one yellow folder in my memory stick and they've been screaming "PUT US AWAY WOMAN!" Procrastinator Number One, I tell you!

Anyhoolaloo~ this post isn't the least bit otaku but here's a snap to where Ive been to recently – not the mainstream touristy spots but they're quite interesting places to explore. If you do come over, you may want to check them out.
First up, me went on a photography trip some weeks back, with some native folks. We had to go around a few places taking photos of the theme then print them out and share at the end of the day. It was train-taking day. Japanese love trains for some reason. I just thought that it would have been more fun if the weather was cooler and that there were hot guys to ogle at. LOL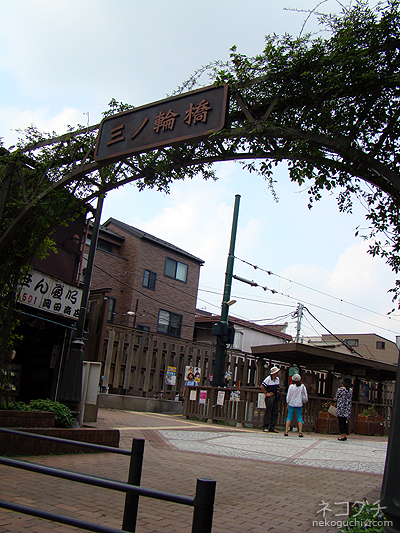 We started off at the Minowabashi terminal station of the Toden Arakawa street-car (都電). I was told that this is the last remaining street-car in Tokyo.
We purchased a 1-day pass for 400 yen as we'll be hopping on and off. The train accepts normal commuter Suica or Passmo passes too.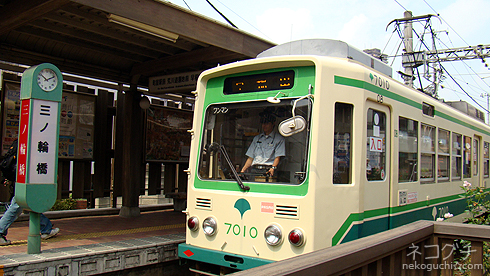 The Toden Arakawa street-car runs in areas that tourists don't frequently see. There's a reason it's called a street car – it runs on the street! Well, just a portion of it! Besides, you'll get to savour the sights of older Tokyo at street level.  If feels kinda different compared to the normal trains which whizzes around Tokyo and all you see is a blur.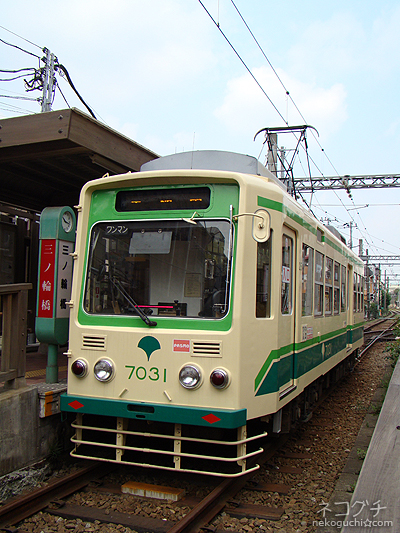 We later moved on to a few more trains. Some of the members of the club were explaining the history of the trains but my thoughts digressed to food after sweating out for only a mere 15 mins. So yeah I kinda forgot the names of the trains.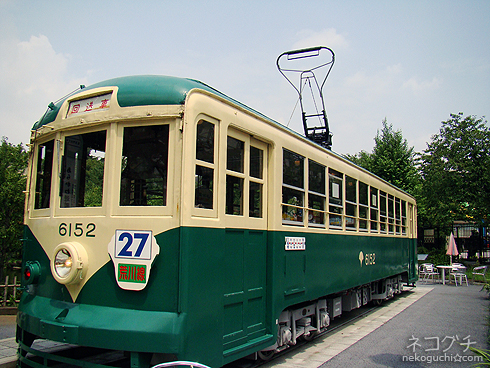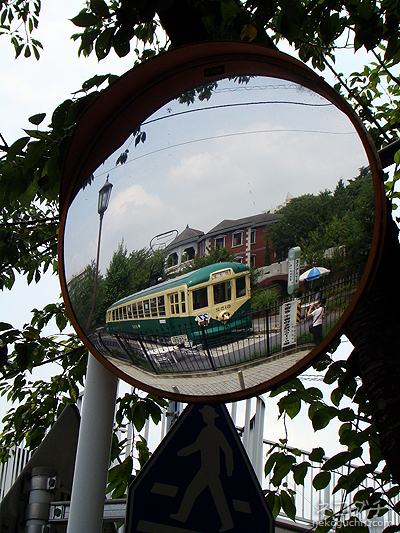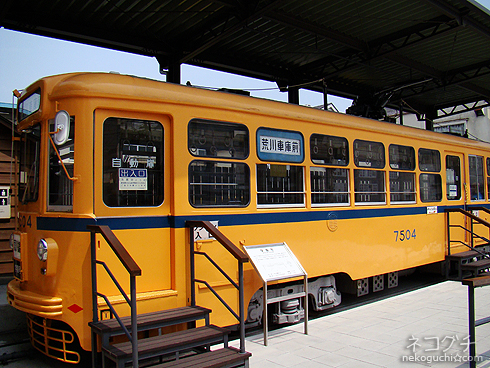 Beer in a vending machine. Beside it, is a cigarette-selling one. What better to go with!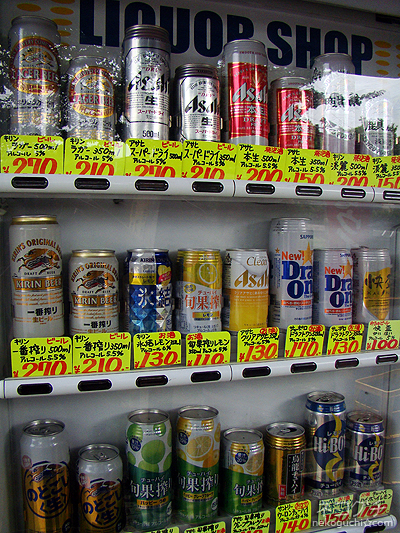 This isn't a train but we stopped by Kishibojinmae Station along the Arakawa line and visited a shrine. This was taken at the entrance to Zoshigaya Kishibojin Temple (The Guardian Deity of Children). If you understand Kanji, you'll notice that the first character (which reads Oni and means "demon" in Japanese) has the top stroke missing from the Chinese character of 鬼 (which means "ghost" or "evil spirits" in Mandarin). I thought it was interesting so I went to ask…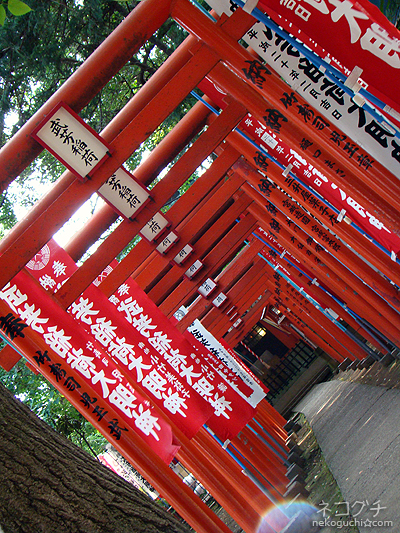 Apparently, it was said that there was a demonic woman named Kishimojin, who had like hundreds of children and was terrorizing the town eating other people's children. To stop her from doing this, the Buddha took and hid her youngest child, after learning the grief that mothers suffer from the loss of a child, the demon repented converted to Buddhism and only ate pomegranates henceafter.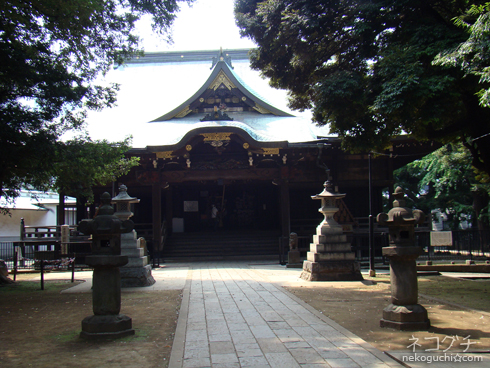 She is venerated as a protector of children, deity of childbirth and of fertility. And that's how the Oni lost its "Horns" (the top stroke of the Kanji character).
Interesting eh~ and I would have thought that such stories can only found in story books but it felt exceedingly real when you hear it at the very place that the "characters" in the story are being worshiped.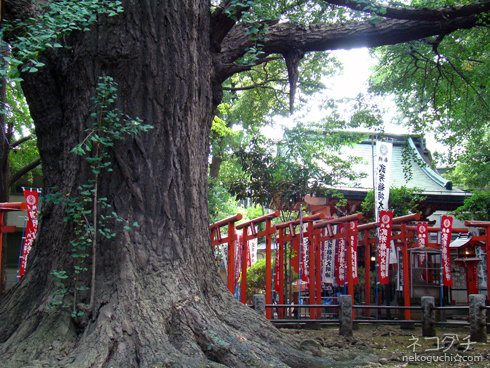 After swimming in nostalgia for like  5mins, I found a tree that looks like the one Kikkyou "pinned" Inuyasha on. I was told this is a child-raising Ginko tree and it's said to be over 600 years old! Ooooh better not crack a joke about it!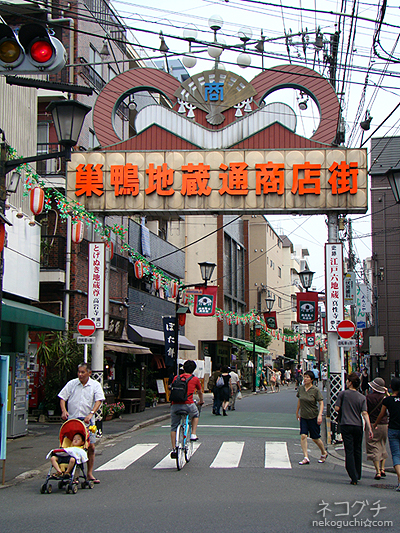 We moved on to Sugamo Jizo Dori soon after. Street fairs are conducted on every 4th, 14th and 24th of the month and major festivals are held on occasionally in January, May and September. This place is themed the Harajuku of Obasans (aunties / elderly ladies).
Yup there are no flamming pink wigs, sky-reaching hard waxed hair  or tiny short skirts that lets you air your ahems on hot sunny days; but quite the contary, the  stuff that's selling are the exact opposite. Majority of the goodies they sell are all geared towards the elderly.  You can't miss the array of grand-people underwear dangling from shops. They hang it out right in front of your face and that piece of long-john and granny gridle comes in shades of bedige, grey, white and did I mention RED? I told you it would have been more fun if there were younger guys to drool over. LoL.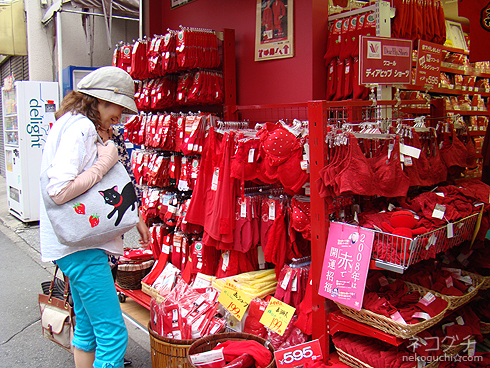 These are the RED ones. I just find this an overdose. 赤パンツ (aka-pantsu – red panties) came to this street of grey some years back and were sold by a shop named Matsuri. People believed that red undies keep you warm and fill you up with vigor by energizing a pressure point below your navel.
I did not buy one to try.
Targetted at the elderly, it was believed that red makes one feel younger and keeps you warmer. Matsuri also sells a variety of unmentionables which I'll leave it to your imagination.
We passed by Koganji temple which (is under construction and) is known for the "Togenuki Jizo". It is said that if you wash the statute of the Arai Kannon, then your illness on that part of your body will be removed. There's usually a queue for this which I'm willing to bet that the queue will continue if we all continue to drink, smoke, eat charcoal and sleep late! Haha.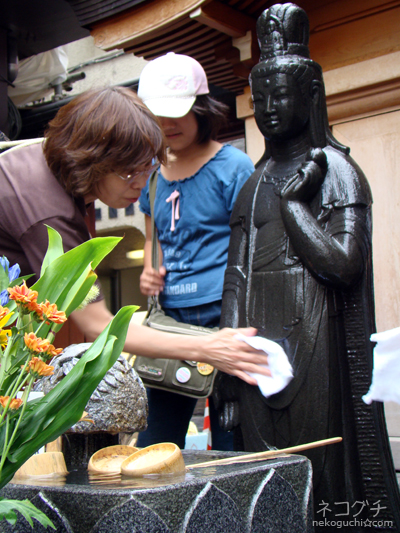 You'll usually find such water features at entrances of temples. People wash their hands before entering the temples as a "formality" or "ritual" to signify cleansing of oneself before entering a holy place.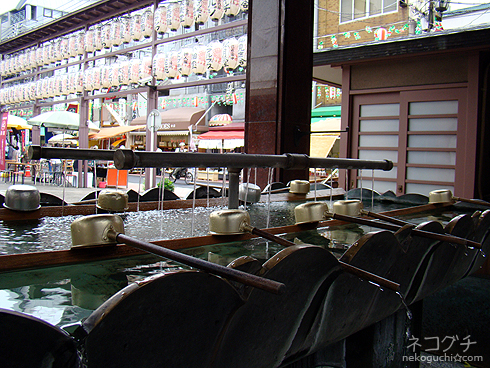 This was taken on the way home. I loved the sunsets in Tokyo.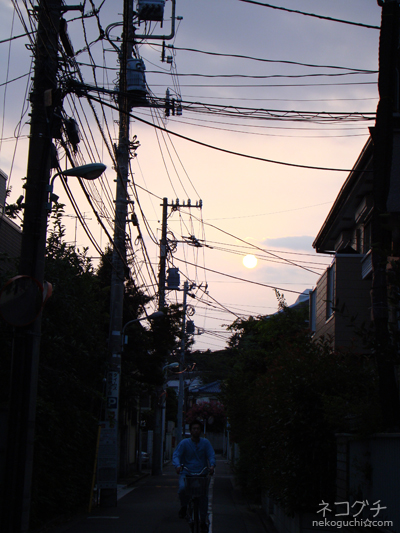 Some days after, Windbell came over for a healthy dose of vacation before enlisting for National Service. (poor guy). While the weather was still good, I met up with him and we went to Inokashira Park off the hustle and bustle of central Tokyo. Seen this park like a million times in Japanese anime and dramas – it's a park known for couples breaking up. If you wanna break up with your other (miserable) half, bring him/her there. LOL That's just hear-say of course.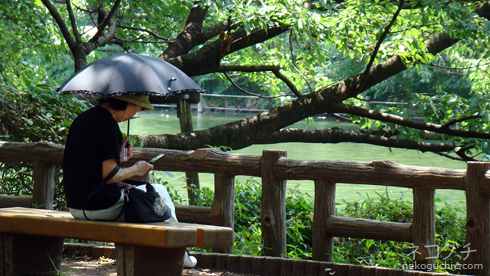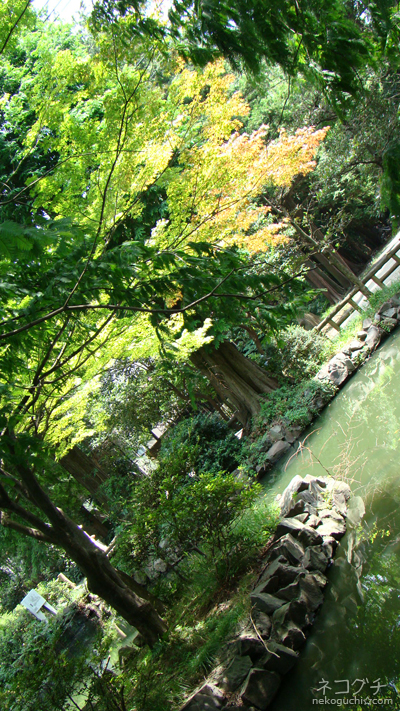 There's a temple nearby, built in worship to the rancorous godess Benzaiten who curses couples bringing them affairs and troubles in their relationships (oooh so dramatic!)  It was said that the godess blights couples who take the boatride out. Well, I kinda missed it cos it was too scorching hot to explore the place thoroughly. No doubt I'd want to go back to take a peek!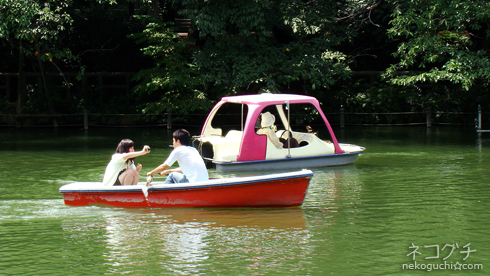 Many couples like to row boats there, even when they know that there's a probability of breaking up. I wonder if this pair is still a couple :]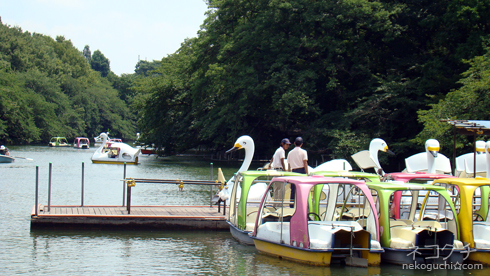 The famous swan boats – I remember this scene from Itazura na Kiss.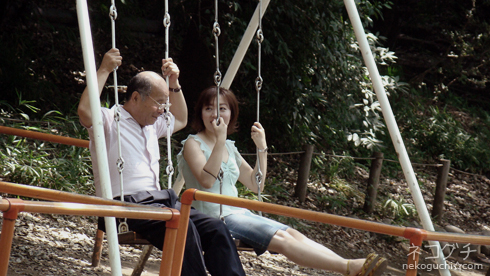 When I grow old I wanna linger away my life like diyat too!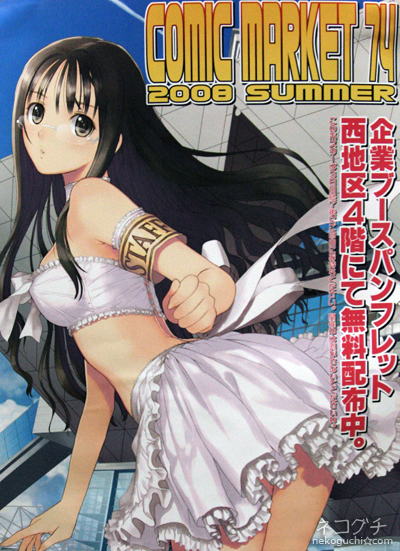 Ok That's the Comiket poster. Read about the (mis)adventures here.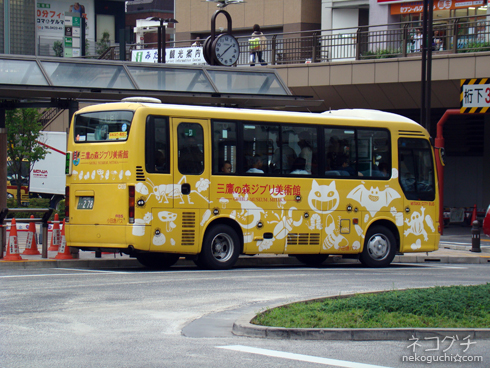 This is from another weekend. A bunch of me classmates went to Studio Ghibli Museum for some fun…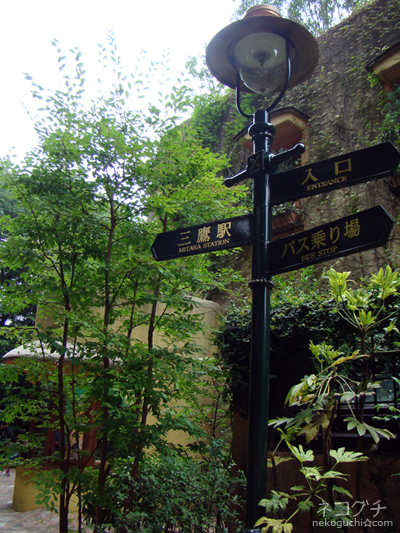 But it has been rainy the whole day and the air smelled like musk.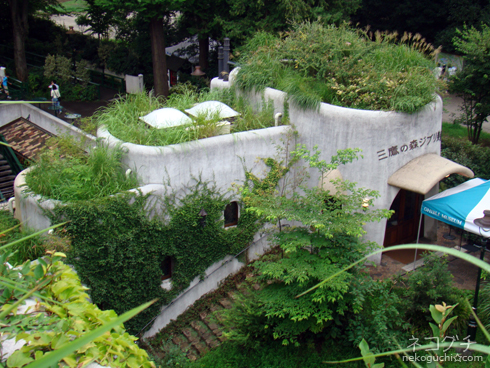 And we aren't allowed to take any pictures inside the building. . .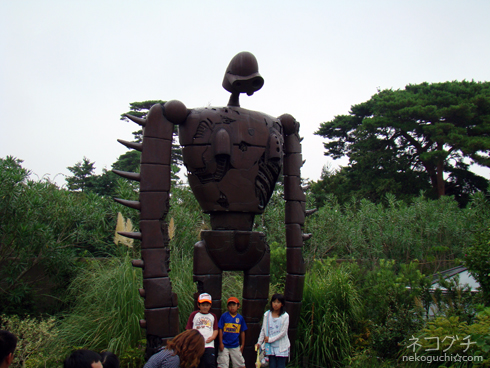 so all you see are just these few dull outdoor shots. Yup not very fun.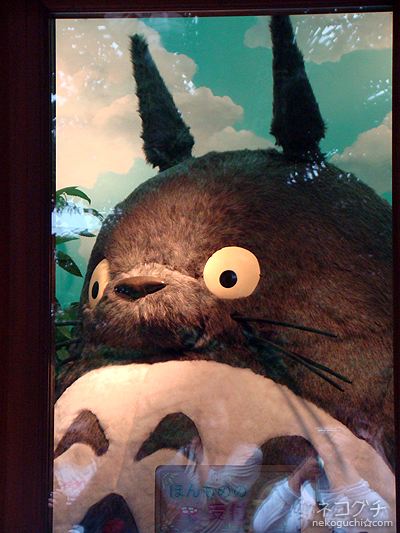 Totoro locked up in a modern cage aka showcase.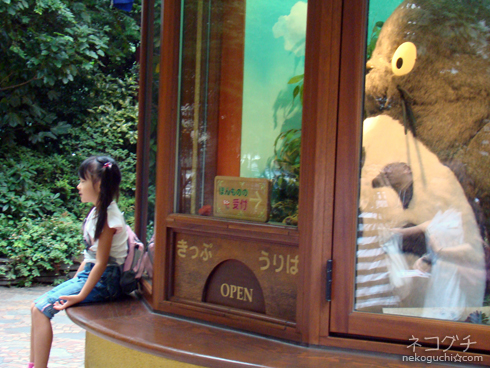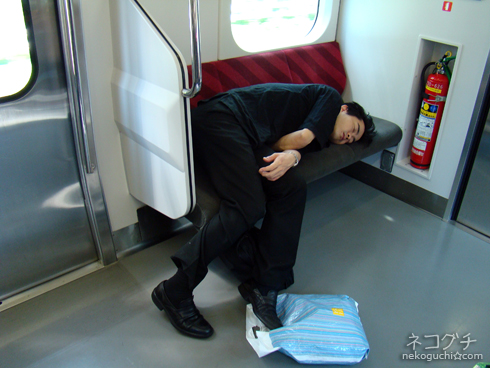 I remember reading a few articles about Japanese people sleeping in public places on Danny Choo & Kirainet. Its soooo true. This precious' totally knocked out and it was like 10ish in the morning?!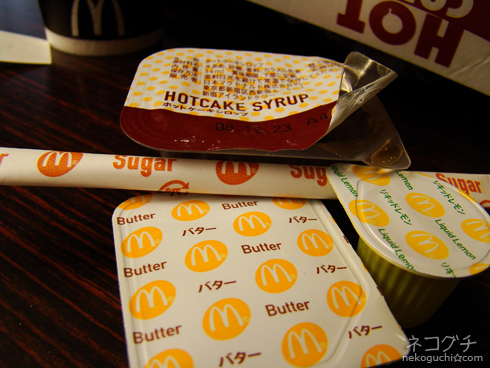 Results of being bored. You go to McDonald's and toy with their (free) contiments. My friend finds "liquid lemon" weird. Back in Singapore our lemon tea used to have real lemon slices. Some years back, they took that out and what you get is instant lemon tea ie sweeten & lemon-ised . In japan, you just get black tea. You add whatever flavour you like to it (even butter if you'd like. Haha)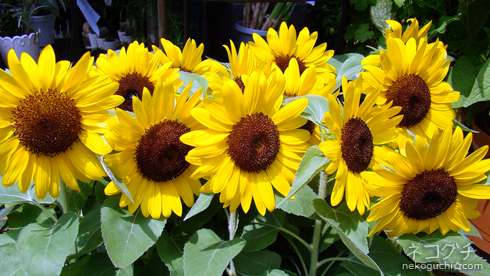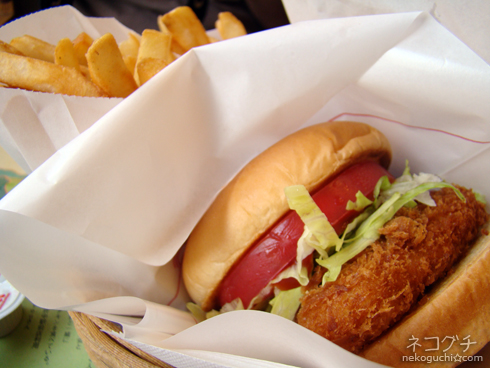 Saving the mouth-watering food for last. This one's from MOS Burger at Shimokitazawa. Its a pretty decent place and I fell in love with it. Going to blog about it later.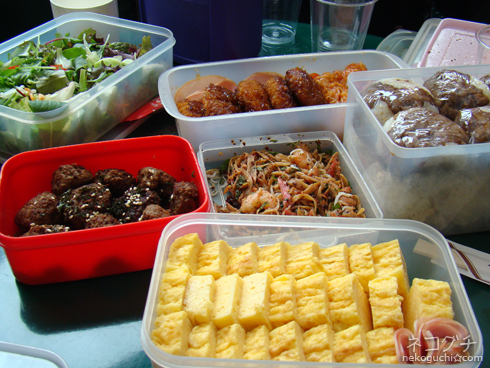 Ai Xin Bento (mandarin: 爱心便当 ai xin bian dang)! – basically means bento lunch/meal prepared with love. We gorged it all down within minutes.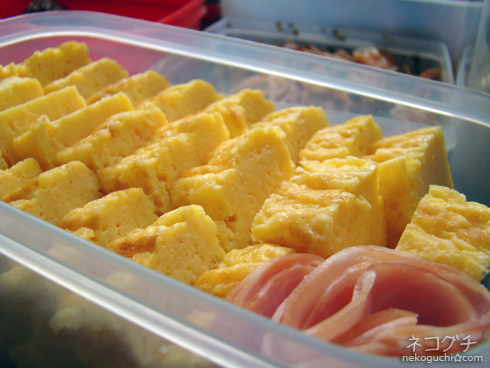 I especially love Tamago Yaki.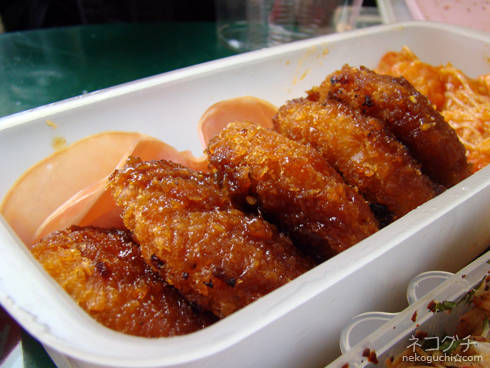 No I did not cook these~ LOL.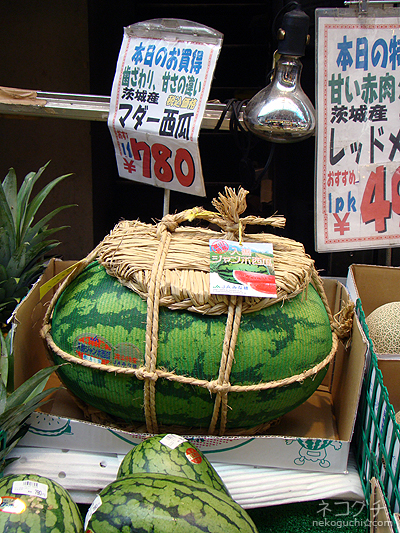 Super large watermelon. This one is surprisingly cheap!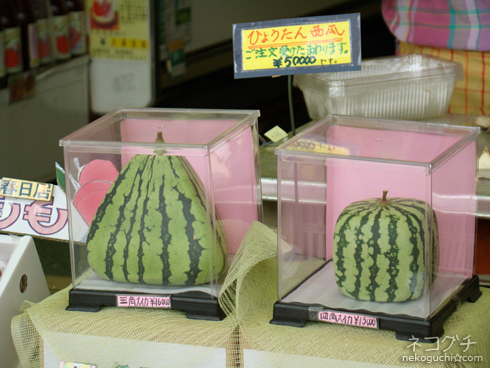 Now these. . . I just find them too weird (and expensive) to eat.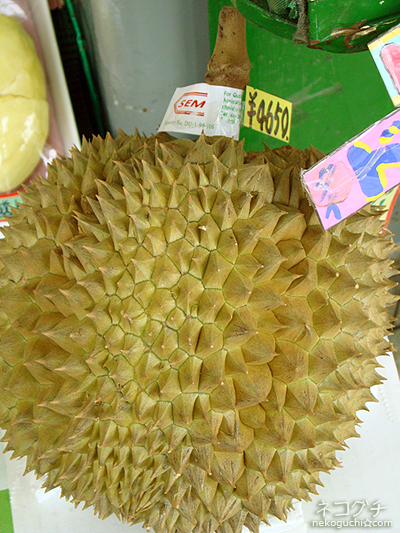 One can get this baby at 1/3 the price back home.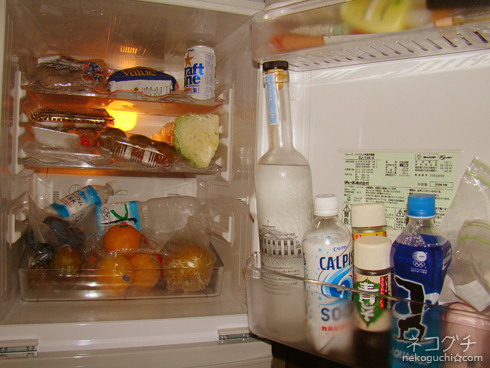 You know you've overspent and are most likely over-eating when your fridge constantly looks like this. -.-!