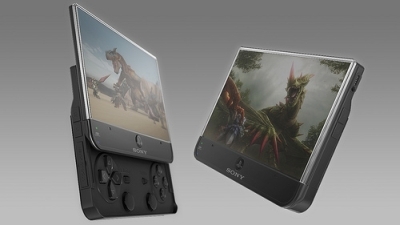 Rumor has it that the new PSP, or PSP2 will have a sliding screen. You know, something like your push up phones.  It was also reported that it's basically the same screen as the 3000 series just that in this one, it needs lubricant.
Anyway, the buttons are apparently underneath the screen which makes me wonder if the end result would be as thick as my club sandwich given that you still need to slot some UMD & Li-on battrey somewhere. Apparently source here reckons that the screen won't cover the console totally and only the L1 and R1 controls at the shoulders are exposed.
Anyway judging from the said image, there's no lingering traits of the old PSP which make it sound more like a fan-made design. Whatever the case, be prepared for more fingerprints.