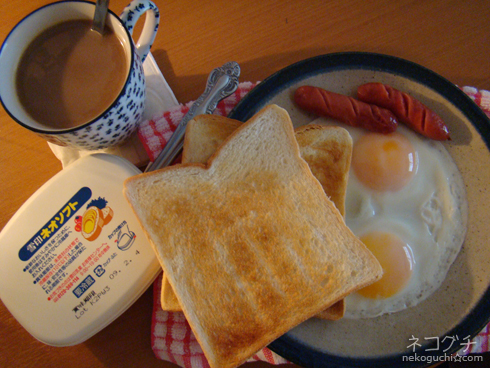 My "All American Breakfast" here in Tokyo (strange isn't it?) but that's what I usually eat for breaky and lunch (cause that's all I know how to cook anyway haha).
My first week here hasn't been that much fun acutally. Been really busy getting lost, settling down and trying to get my immigration stuff ironed out (which is a real pain in the ass and perhaps can be written as a thesis itself). Anyway 2 weeks just zoomed by like that. So here's what been happening so far and a sneak peek of my place.
In Japan everything is smaller & narrower. Here's the entrance to my stay. Super mini kitchen's on the left & the door on the right leads to the bathroom. "Leads" would be an understatement cos the moment you swing the door open, you'll see both the bathtub and the toilet + sink.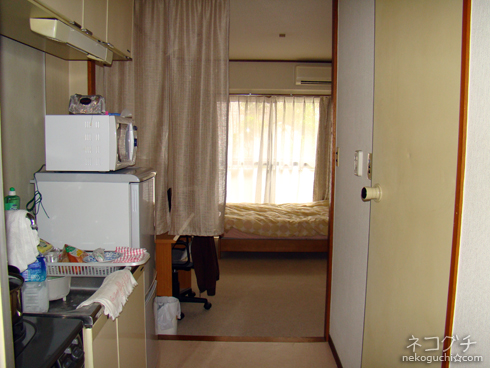 The wall was looking too plain so I had to do something.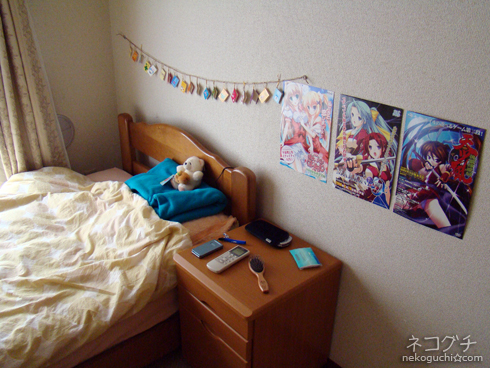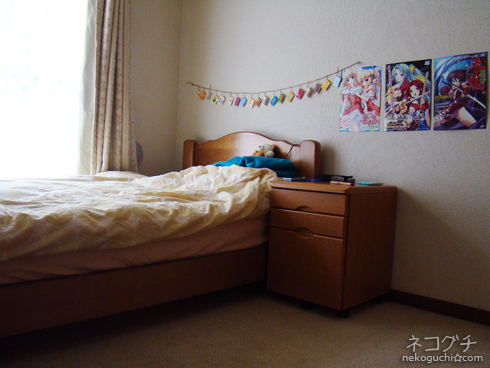 Rented a fully furnished "apartment" so the basic necessities like bed, fridge, gas & TV etc.. are covered. The TV's reallly sorta redundant cos for one, my PS3 is not here, two, Mervyn said my laptop's LCD screen is bigger than the TV so watching anime on my comp would be better than the live one on TV and three, there's no Cable service being subscribed to so all I get are mostly re-runs LOL.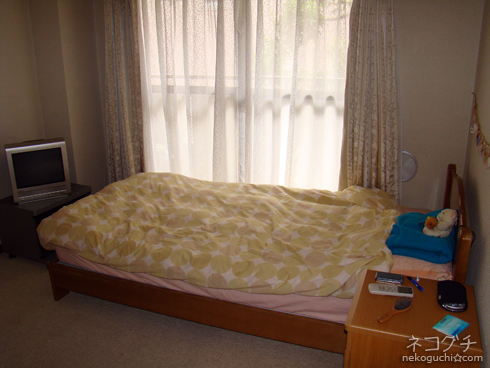 The so-called multi-purpose desk where I eat, work and watch all my yummy anime/dramas.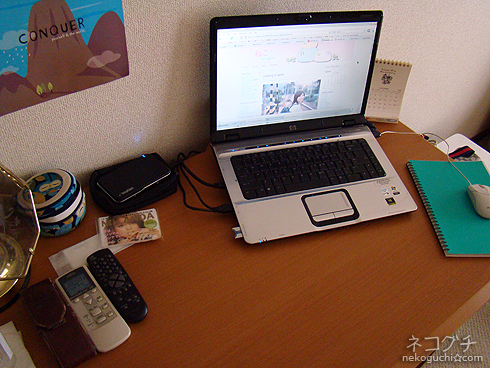 What the outside looks like. Not much of a view but that's usually the norm here in Tokyo I think. You can see the train from here so yes I can hear them too. This one's running on the Yamanote Line.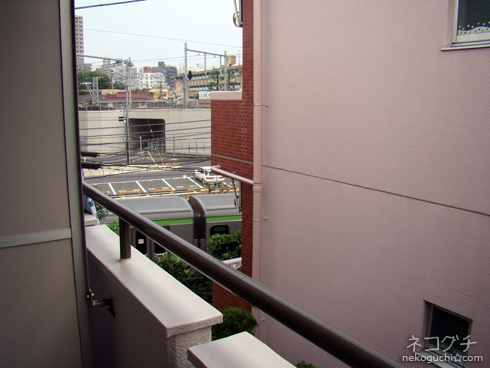 Part of my breakfast – The eggs here in Japan are really fresh and well, white! We never had any white eggs back home in Singapore so I find it really "fun" to eat white eggs. I have absolutely no idea what's the difference in terms of nutritional value though. Took this picture cos I thought it's rare that Japan's mass production standard can allow two eggs of obvious different sizes to be in the same carton.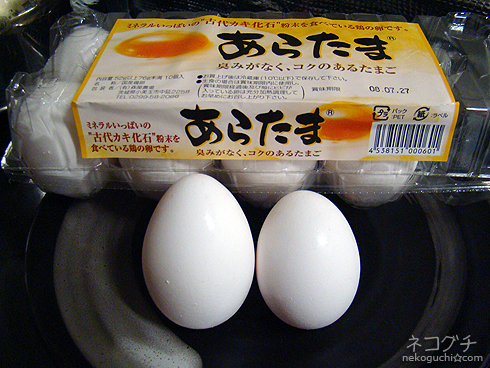 So Fresh you can eat it on its own. (yuck)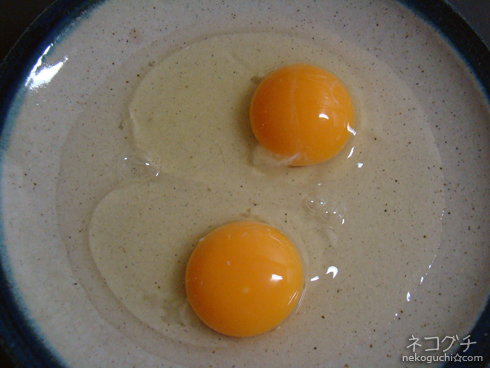 Ahhh now we're talking. And who says you can't get nicely cooked microwave eggs?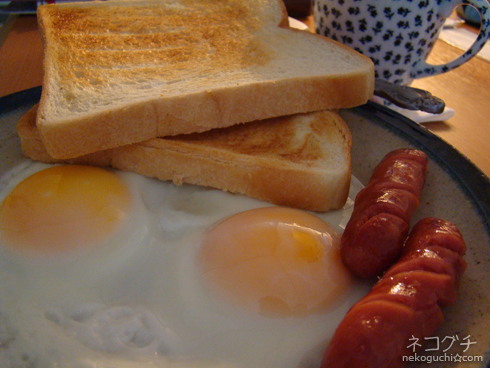 I actually got sick of my own cooking so I was craving for some REAL Japanese food. Had this feast last weekend when one of my Hong Kong friend came down to visit. She didn't want to go back home either. LOL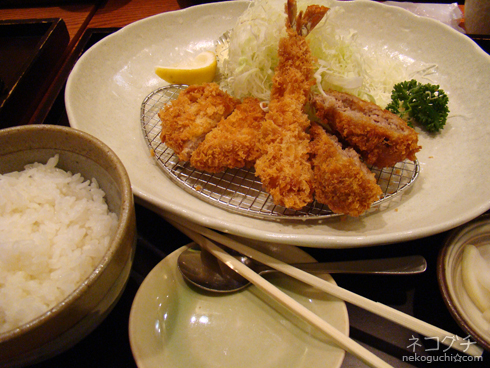 Mutton Curry from an Indian restaurant at Odaiba.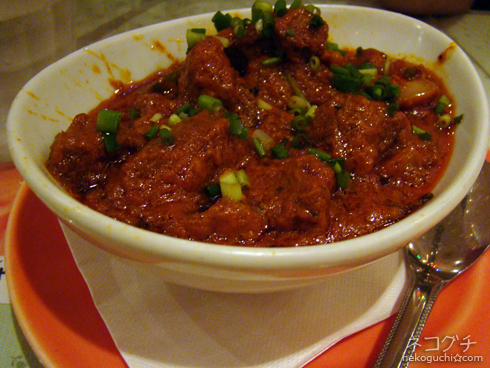 Chicken Kabab (without the wrap)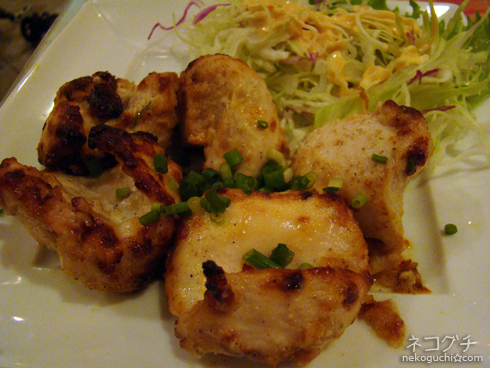 The naan that went with my chicken.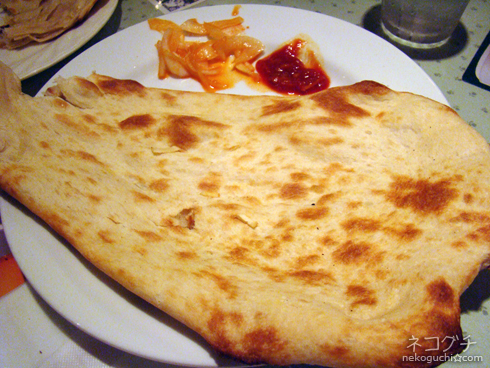 And the paratah (I think that's how they spell it here) that my friend ordered. It's HUGE and thicker compared to the ones we had back home.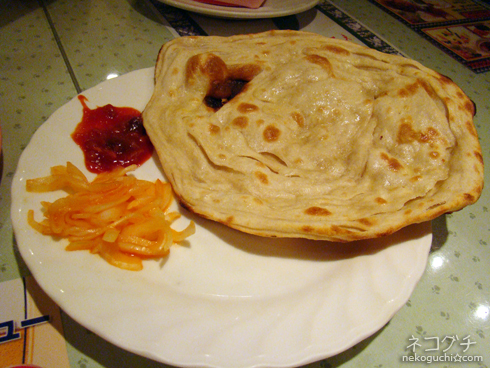 One of my school mates treated me to Crepes! YUMMY~ It's one of my favourite snacks/desserts! Definitely a must try if you're here!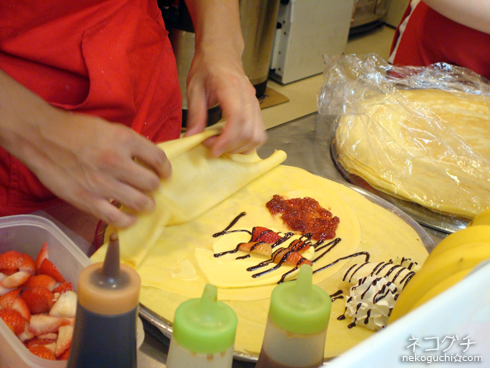 After a few days of cooking, I got sick of my own cooking again. Went downtown with my classmates after class one day and ordered this Gyu don with Unagi. I'm supposed to be living on a budget but have decided to splurge a little cos I'm really sick of my own cooking. LOL!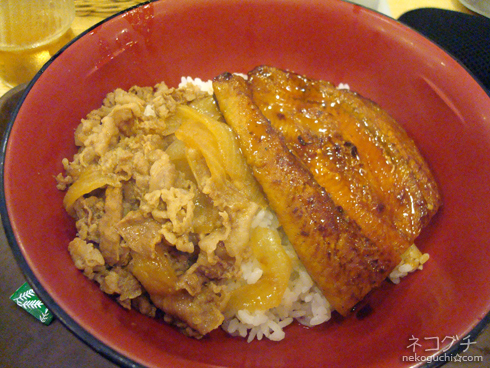 Yoghurt at Shibuya.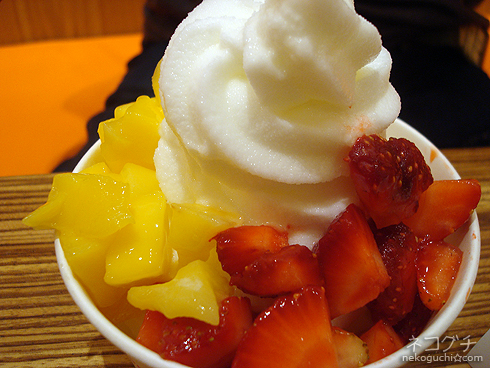 Enough of food.. Went to Nippori over the weekend for some sight seeing and decided to play tourist. It's a nice quiet place that's very unlike the busy Tokyo. Nippori boosts a number of shrines/temples – 66 to be exact, according to my rickshaw puller guide. It's a town with many preserved buildings from the Edo Period, where the Tokugawa ruled.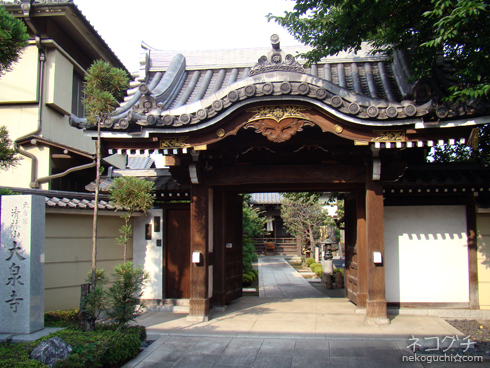 This is an interesting piece of old-skool well. Back in the olden days, the water system wasn't that advanced so they made wells outside the village for common use and in cases of fire. I guess that's how the olden day fire hydrant looks like.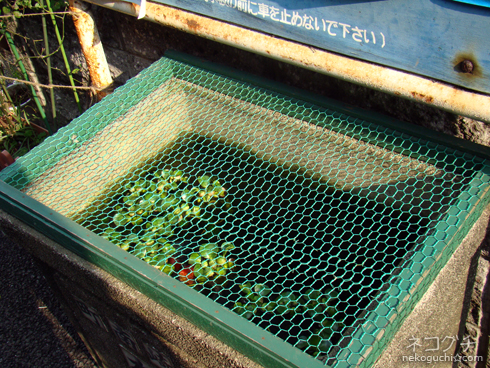 This is a weird one. It's actually a storehouse where clothes and futons are stored in Summer. The family house is actually on the right (half taken). Strange to see the storeroom bigger than the actual house eh.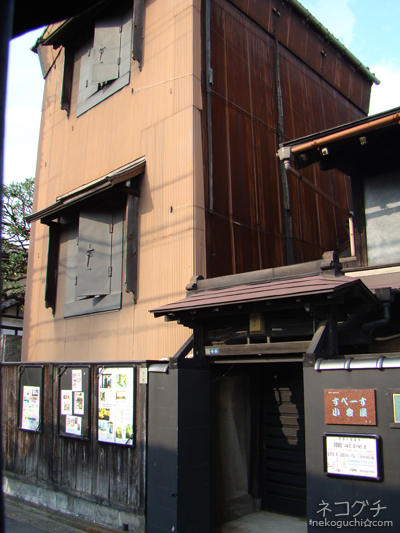 I was told that this is the Sunset Stairway (夕やけだんだん). I'm sure it got its name from where the sun shines on but I'm not sure why it's so famous. Apparently it appeared in Japanese dramas.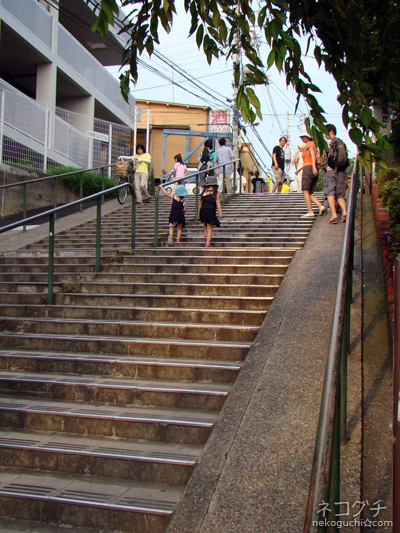 That day was exceptionally hot so decided to try out the かき氷(Kaki Goori) – Japanese version of Ice Kachang. It's a whopping price for just pure ice shavings and some sugar syrup and food dye actually, but it sure was a life saver!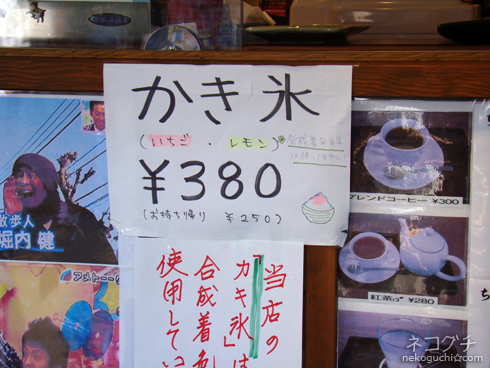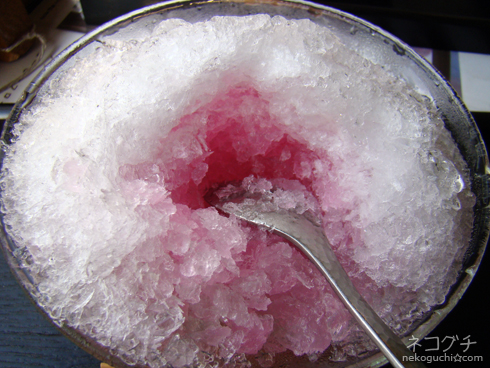 Sun setting in Minowa. Another small area in Tokyo.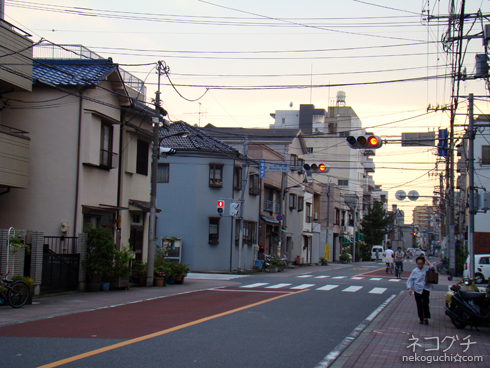 Ok back to the hustle and bustle of Shibuya. Spotted Yui's latest single. (She's too cute so its a must take photo!) Yes we all know its Summer! LOL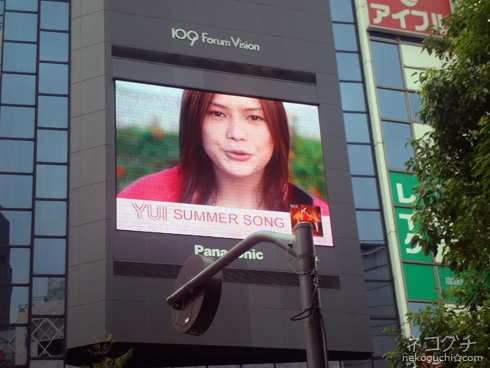 Ended my weekend at Odaiba. Don't ask me why I'm back there. LOL. Wanted to take some night shots of the Rainbow Bridge since I missed it the other time round. I got there and much to my dismay, the "Rainbow" was permanently stuck at GREEN.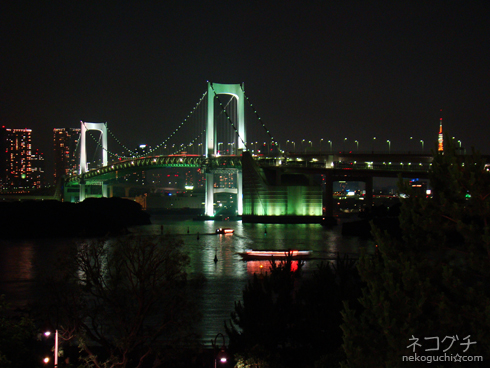 It's been good so far and I hope life here gets better next week~ Cos I certainly don't wouldn't wanna spend my birthday alone!! . ヽ(;´Д`)ノ boo hoo~