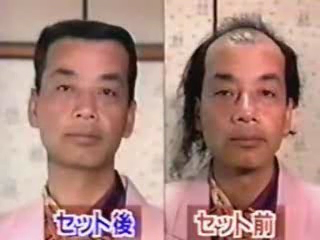 What happened to his hair?!
Alright alright, I was just pulling your leg. Left is "after set"「セット後」, right is "before set"「セット前」. So it's an after and before image, not the usual before and after. Weird order the Japanese use. Watch the following video to see how he got from balding, to that neat crop on the top.
[youtube=http://www.youtube.com/watch?v=uHm_1116f_Q]
More below after the video ends.
So now you know, never give up even when you're balding. Keep whatever you still got long, it can still give you a makeover! ヽ(´―`)ノ
Via Kirainet, JapanSugoi.