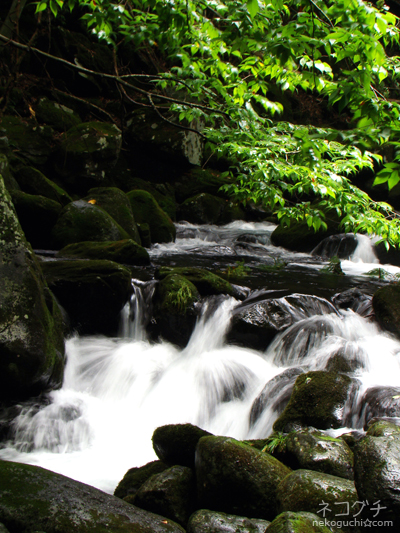 One fine morning, I woke up and realised that my days in Tokyo are numbered and there's so much more I wanna see. ! So I went on a one day drive to Nasu (那須) –  a region in northern Tochigi Prefecture of Japan, with my local friend. It about 3 hours drive from Tokyo by a speeding car.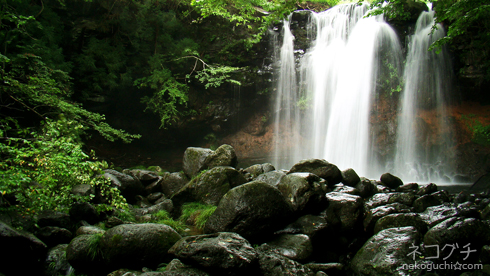 The touristy stop we arrived at was 乙女の滝 Otome no Taki (Virgin's Waterfall)
Otome's Waterfall falls 10 meters. The water gush from the Sawanagawa River, which flows from Mt Shirasasa. (Like I know where that is -.-! I'm just typing whatever that'ss written on the info board for tourists. )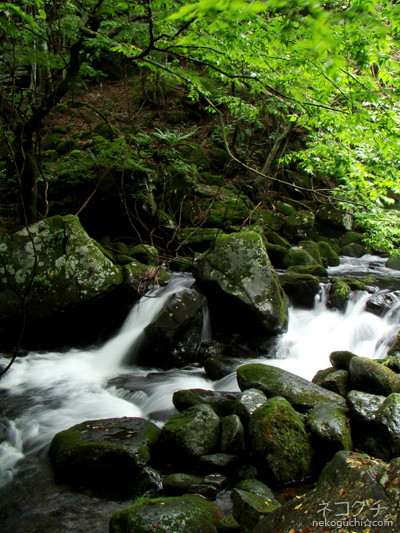 The fall is an especially beautiful sight in the first green of Spring and the colorful foliage of Autumn… (says the board. Unfortunately its summer now and about to rain so I reckon its not an especially beautiful sight.)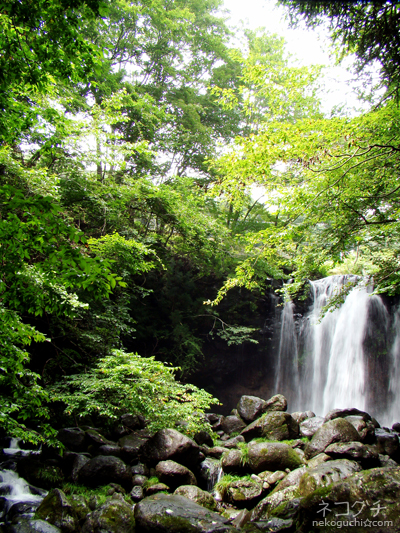 The name "Otome" means "virgin" and is said to have come about because a young girl (I wonder how they know she's a virgin) used to wash her hair in its water.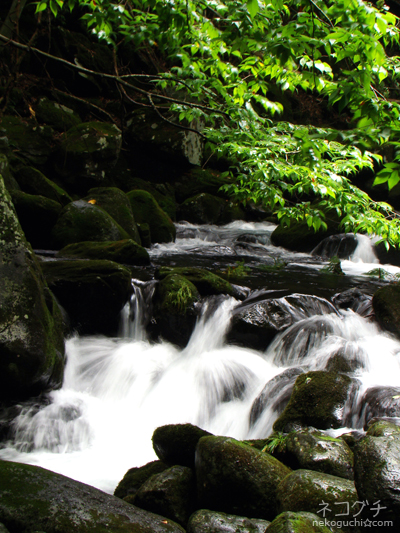 The name could also have came about because the waterfall was thought to resemble her hair.

It was also said that the young girl was a mermaid. This is a weird one cos Nasu is a Highland area I wonder if mermaids could fly back then.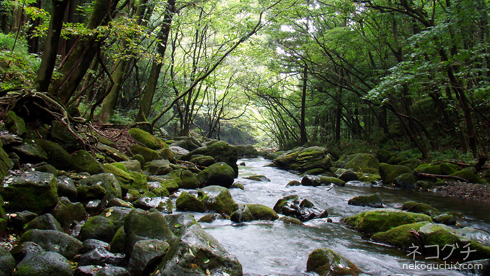 The river flows downstream to the Nakagawa river, forming an important source of drinking water (with additional "nutrients from the girl's hair).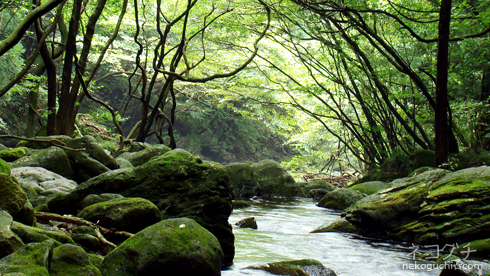 I didn't venture too far out. Didn't want to pick up some mysterious ring and then having to bring it back to some volcano to have it destroyed.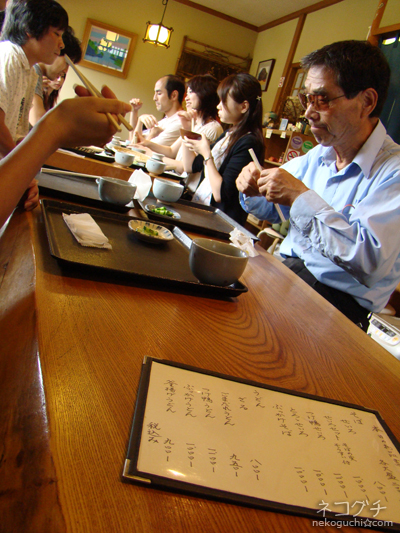 It was noon by the time I finished my trigger-happy session at the falls. We had lunch at an authentic Japanese Soba Restaurant.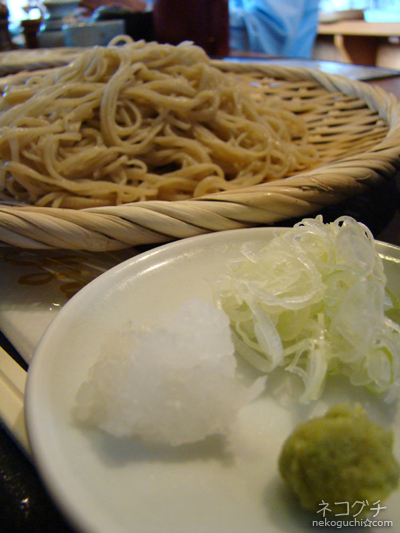 This is my first time eating soba in Japan. I must say I can't tell the difference between good tasting soba and bad tasting ones :S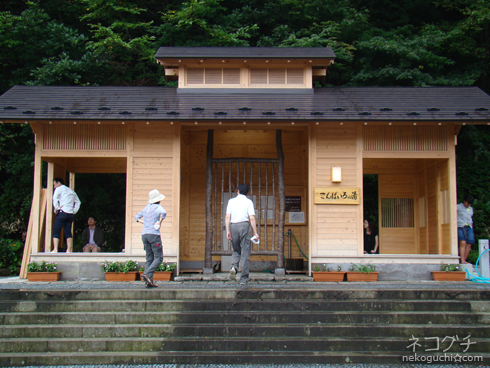 At the foot of the Onsen Shrine, is a mini foot onsen to let you soak your tired feet. The water comes from some where (I don't know where) and is mixed with sulfur thus the choky colour and smell.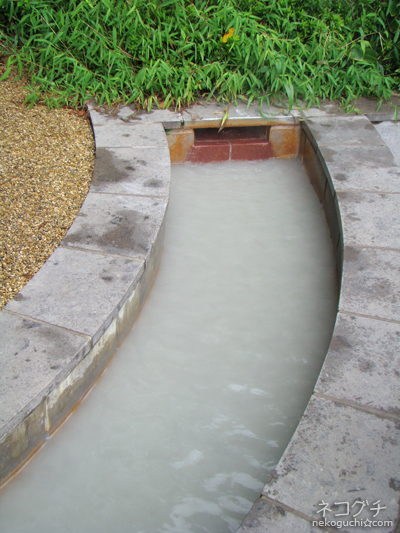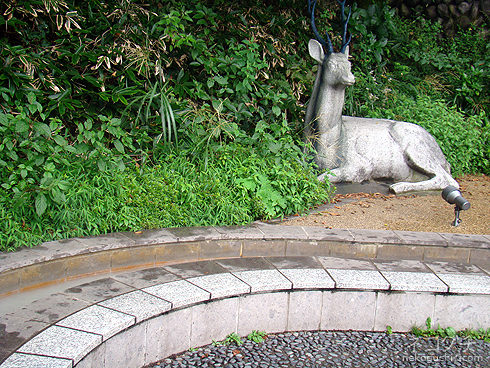 There was a legend about some guy was chasing an injured deer and followed it into the woods. Hence after, the deer jumped into an onsen and its wounds magically disappeared. It was kinda like some healing spring… then they decided to build a shrine and call it the Onsen Jinja.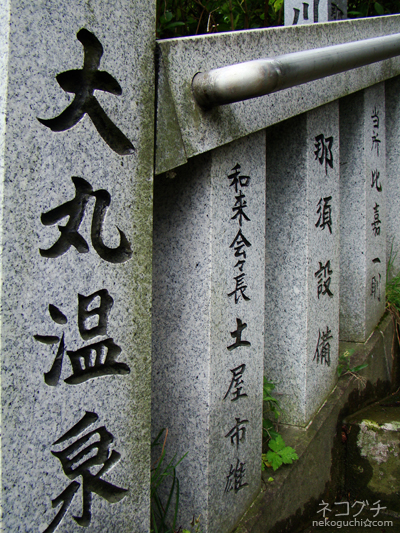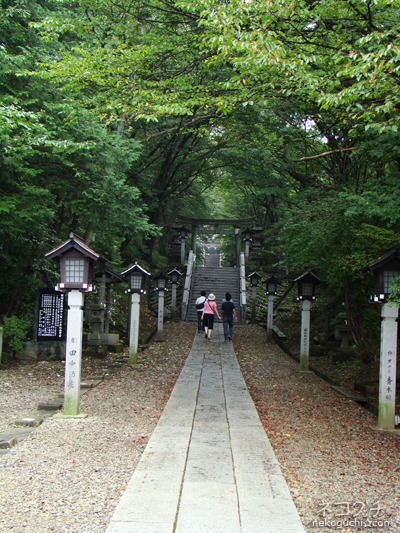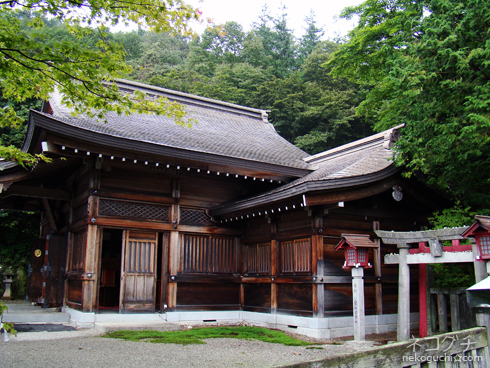 The Onsen Jinja (Shrine)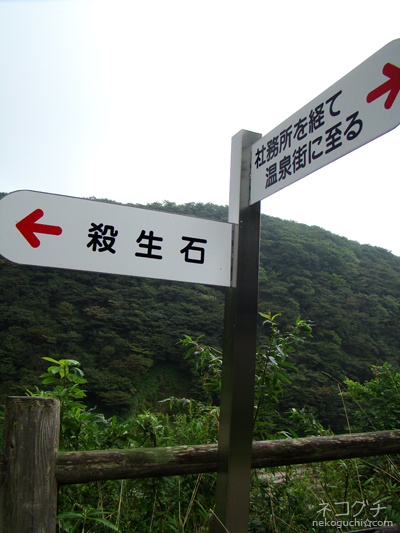 We went to 殺生石 Sesshou Seki (Killing Rock) next! Oooooh the name sounds sooooo cool!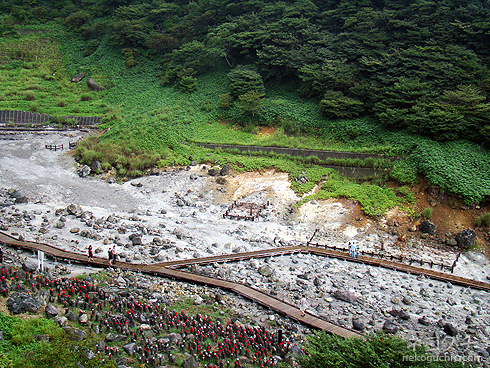 That's the wooden path leading from Sesshou Seki.

You can spot the cute Jizo statues on your way down.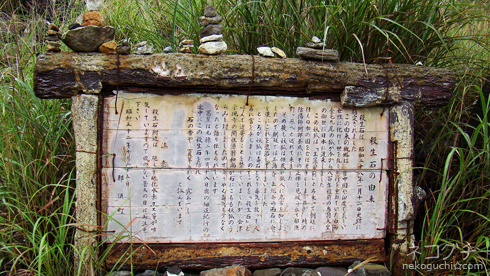 OK here's the legend –
In the Muromachi period, there was this courtesan Tamamo-no-Mae who served the Japanese Emperor Konoe. She's all pretty and talented and in short, everybody simply adores her… turns out, she's a 狐狸精 Fox/kitsune spirit who's after the throne. The emperor discovered the plot and sent 2 warriors after her. She apparently flew (by ANA maybe) to China or some other place (not very sure where) and then … ok to make the long story short, she eventually got shot and was turned into a rock but then the rock emitted a dark aura and poisoned every living thing that touches it and hence the saying "as poisonous as a rock" (Ok I made the saying up LOL)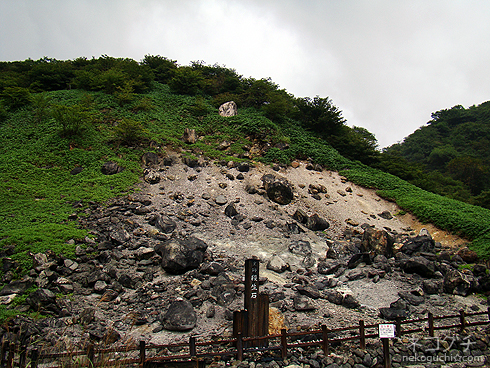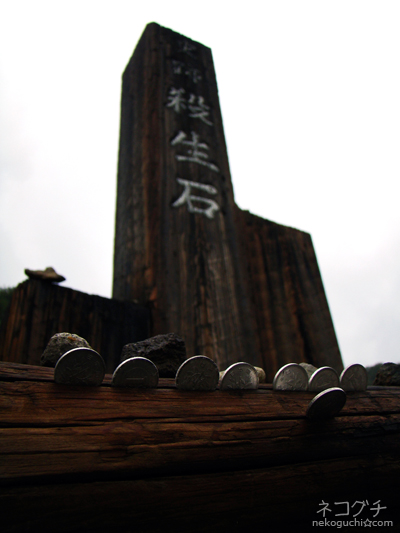 殺生石 (Sesshou Seki / Killing Rock)
I really love this name. It sounds sooooo cool. Maybe cos it sounds so much like Sesshoumaru from Inuyasha. There's some meaning to sticking coins into the wood. I can't remember for the life of me. Does any one know?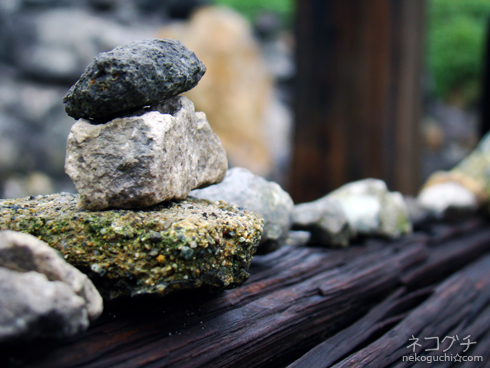 When I reached there the rocky place had spring sulfur water gushing out and there's a lot of stones stacked up and placed like this…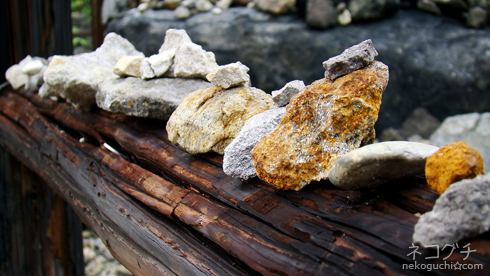 I was all fascinated and so took a bunch of photos… later… I was told that the stacking of pebbles/stones have no meaning at all -,0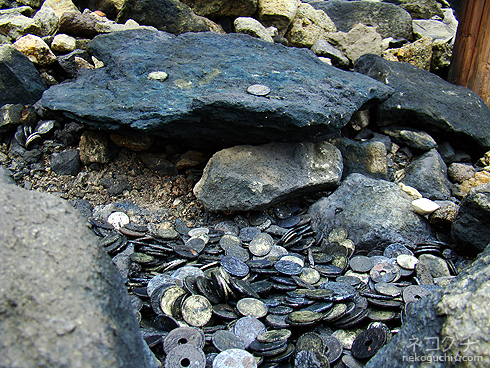 生き物を殺す石
There was a guide there and he was babbling a bunch of Japanese. Apparently there was a carcass of a fox and he was radioing somebody to remove it. Then he was pointing to this piece of rock and said a bunch of funny sounding Japanese which I think is their dialect. Anyhoolalooo, I assume that's Sesshou Seki.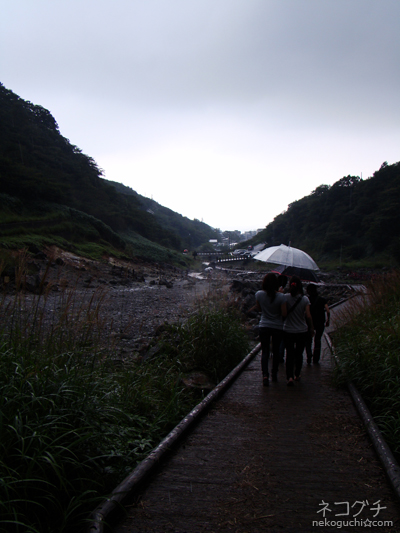 The sky poured right after I learned about the history of the place…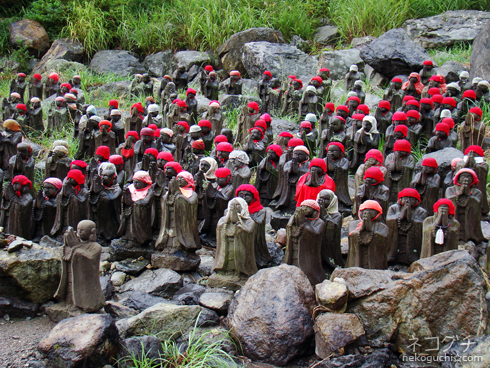 The Jizo statues. I was trying to take more photos but then my camera and bag and everything else in it got drenched.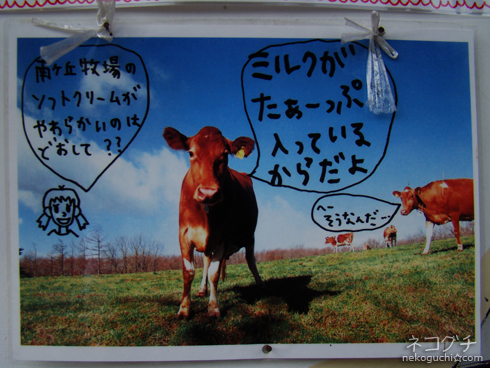 We later proceeded to this park famous for its dairy products. I love how Japanese like to add drawings onto a simple piece of photo making it look VERY Japo.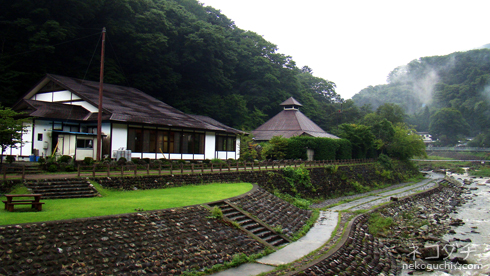 I had my very first *blush* onsen experience here. Public onsen bath. 500 yen per adult. Be naked!
Sorry . . . no photos allowed inside.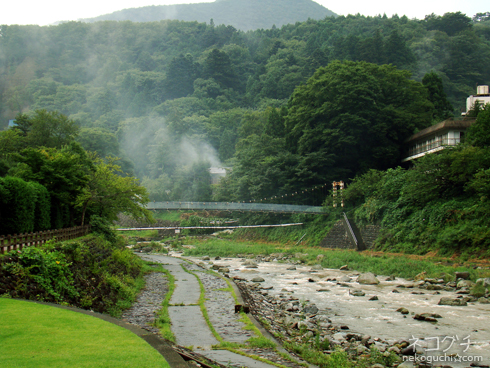 True countryside hot spring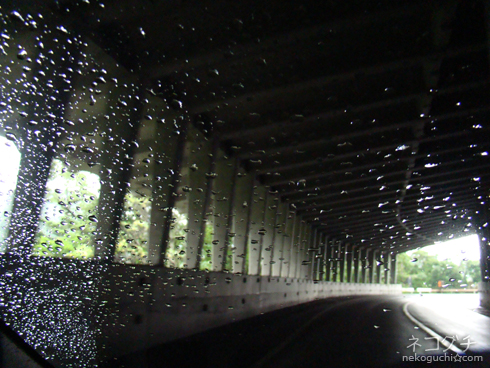 This reminds me of Ridge Racer. Some of the roads there are really like Initial D and then I start craving for some Eurobeat. LOL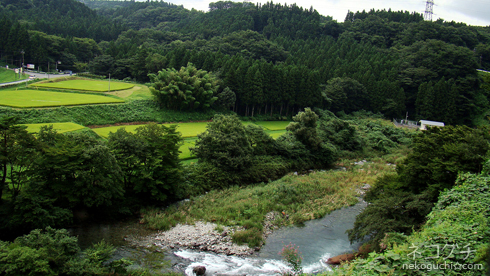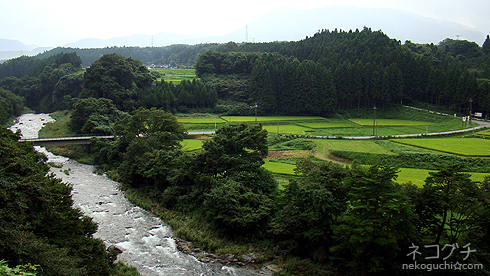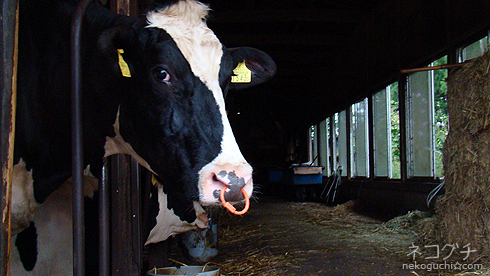 Went to my friend's aunt's plantation/farm and met the locals there. Say moooooo~ This babe knows I'm taking her. After a few shots, they give you the funny eye.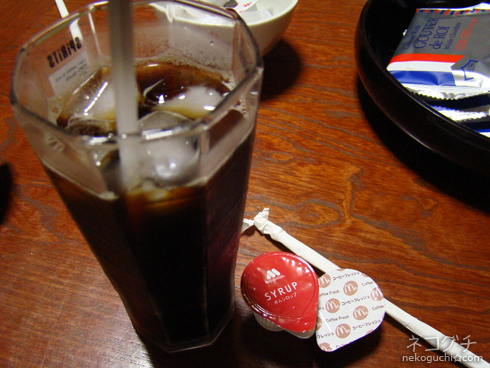 Mos Burger Syrup + McDonald's creamer = oishii coffee!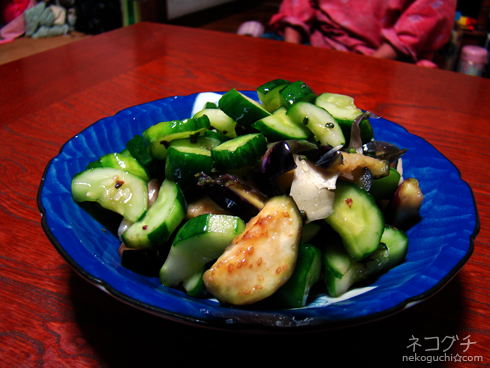 Urgh I can't remember the name of this dish. Have no idea if its a countryside dish or not but I was busy munching away while my friend was talking to the local folks. I got lost after only abt 10 mins of trying to make out what they say. Its different from the Japanese we hear on TV. They don't speak the Tokyo Ben (Tokyo Japanese) at all.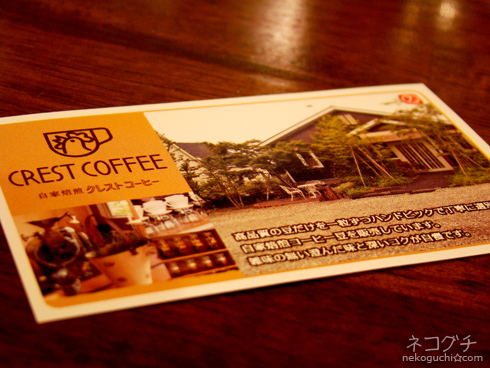 Last stop at Crest Coffee. SUPER nice ambiance! Nothing like a great relax after roaming around in the dark rain.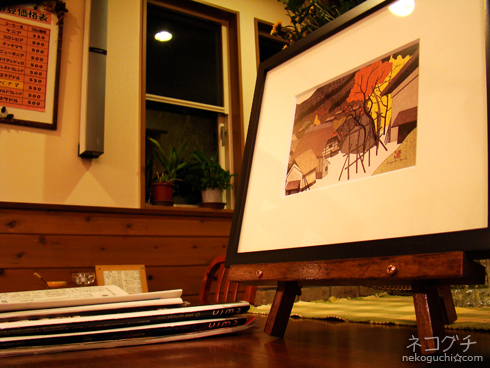 Bossa Nova was softly playing in the background as we entered. I find that Japanese loves Jazz and Bossa/ Samba sounding music. I always hear it while entering some shop – even traditional tea houses and ramen shop. Yeah weird combi..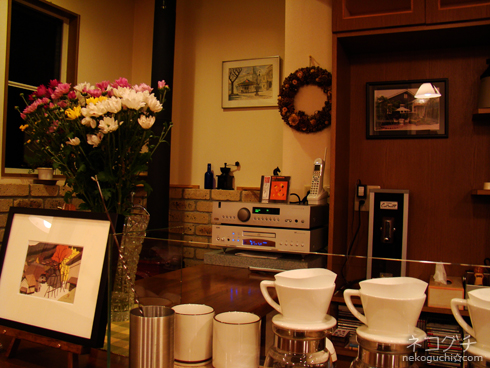 The ambiance is really comfy – what better to relax to on a cold rainy evening in the calm of the countryside. ahhhhhhhh~ and did I mention seriously delicious home-made cakes?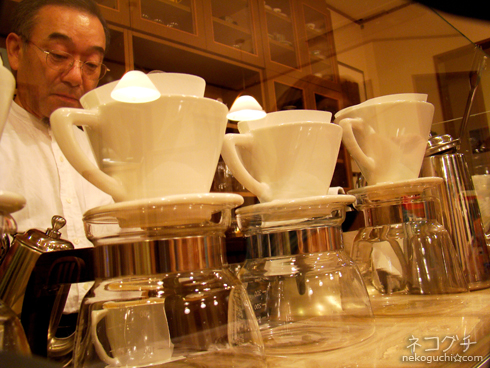 Tenjo preparing our coffee, drip by drip! YUM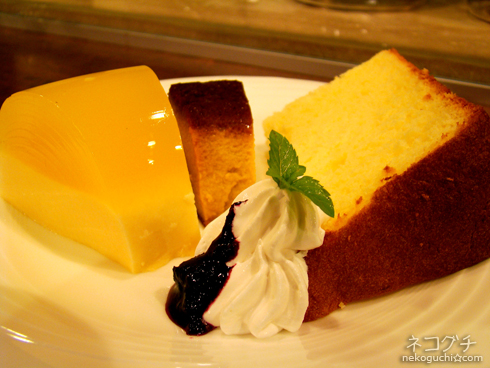 オレンジーぜり ケーキ(Orange Jelly cake)
Pumkin Cake &
Lemon Chiffon Cake
Ok I admit I dunno how to spell them in Katakana.
This set of mini cakes + 1 cuppa coffee cost 1000 yen. About 13 SGD. True its in the country side but its not much cheaper than StarBucks. LOL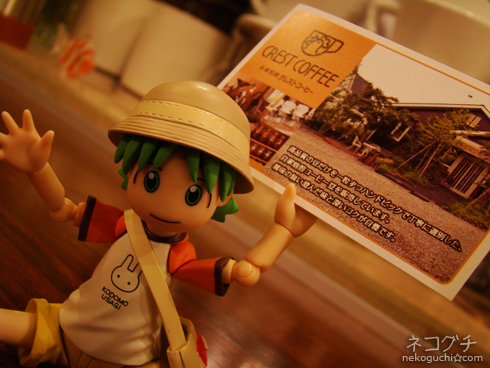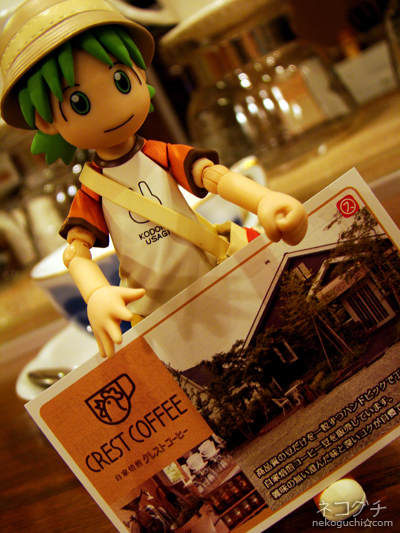 The Otaku in me is showing by end day. LOL. Bought Yotsuba with me. Wanted to take more pix with her but because of the rain, I kinda lost my fingers and arms to fidget her with..

Stuff you do when totally relaxed. . . no I'm not bored!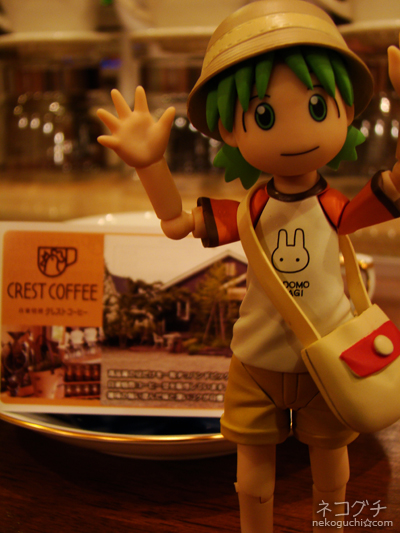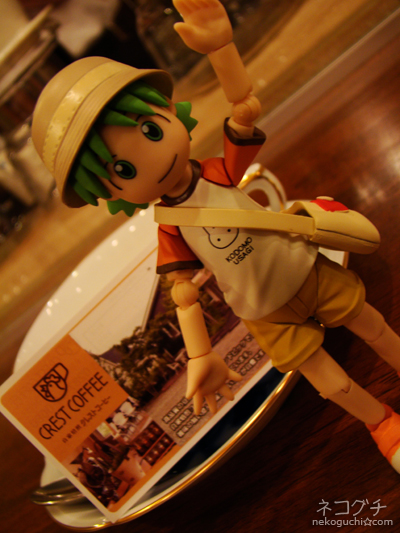 At the end of the day I slept throughtout the journey home. It was raining and my friend was tuning in to soft lounge/classical music plus, the highway was too straight to keep me awake. I wonder how one can stay awake! When I reached home, I immediately turned on wikitravel to plot my next conquest. Maybe I should visit the beach next.  Time is running out!