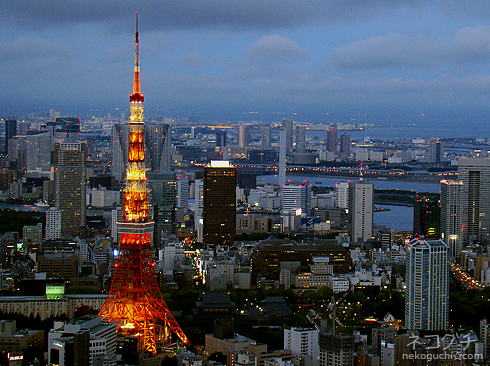 Tadaima! –
Sorry for the long wait but I'm back~ from my rendezvous in Japan! Well, not entirely back~ I think only this empty shell of a body came back. I'm quite certain I left my heart and consciousness there, together with a few strands of hair and perhaps a quarter of a million expired cells! LOL .
Okay, actually this soulless body has been back for about 5 days but because work missed me so much, I bounced back to it immediately – but only to find a mountain of crap waiting for me to clear. Yeah what a drag.
Anyway, I'm in the middle of processing all the peeks! Am starting off with the famous Tokyo Tower for this string of Rendezvous updates.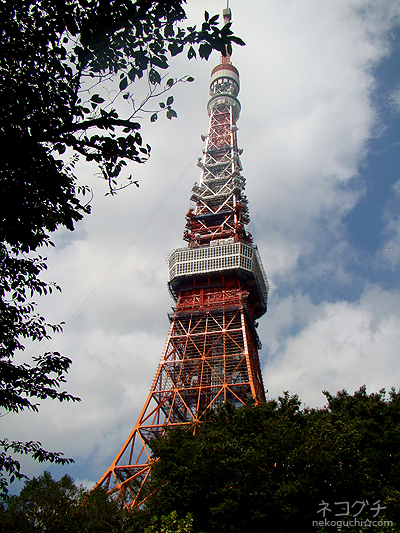 Tokyo Tower is 332.6 meters (about 1091 feet) tall, making it the world's highest self-supporting steel tower and the tallest man-made structure in Japan -> says the brochure & Wikipedia. It's built in 1958 making it 50 years old this year! All in all, T.T. supports a huge antenna that broadcasts television and radio signals for broadcasters like NHK, TBS and Fuji TV.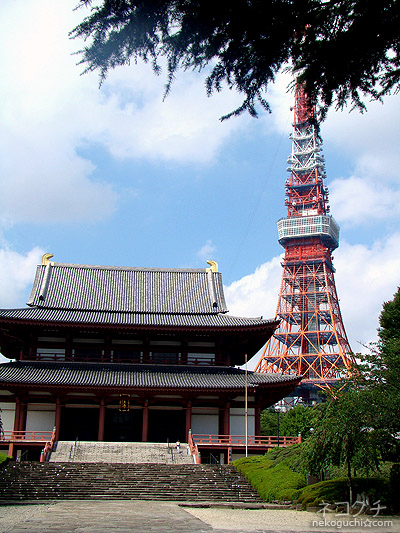 The temple above is San'en-zan Zojoji . A Buddhist temple which once served the shogun Tokugawa Iyeyasu (some of you might know him from the game Samurai Warriors) and family . Sitting behind is Mr. T!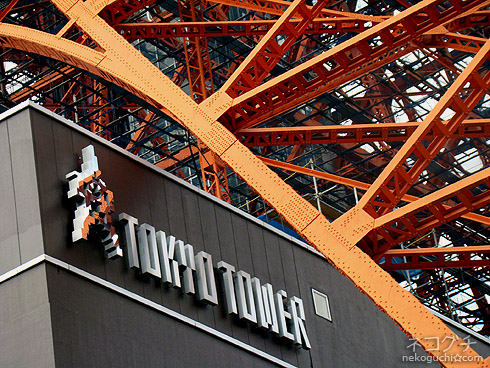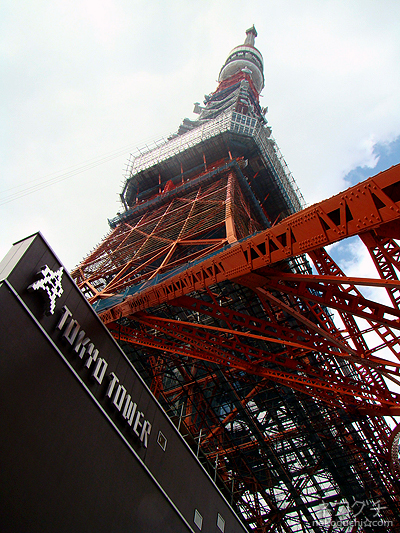 Despite its size, the 50 year old giant only weighs about 4000 tons. Ok so I don't exactly know how heavy that is but compared to its counter part – the Eiffel Tower in Paris which weighs about 7300 tons, its almost half the weight! *faints*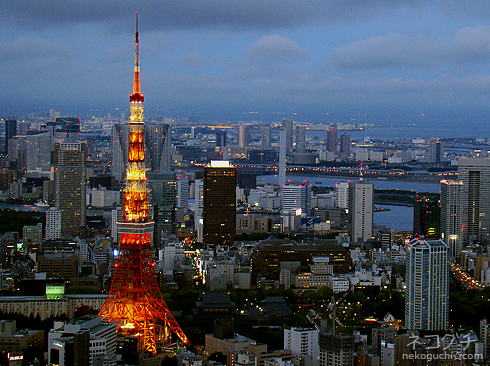 The tower dresses itself up with a wide array of lights for different occasions – like PINK in October for Breast Cancer. Usually, from dusk to midnight, the tower is brilliantly illuminated in tungsten warm light during winter and spring. And in summer & autumn, it is lighted with white lights. It's spring now so the lights are warm.
The mascot for the tower is a pink banana.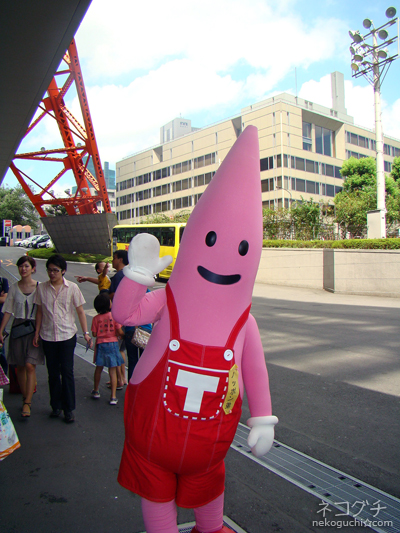 An aerial view taken from Tokyo Tower.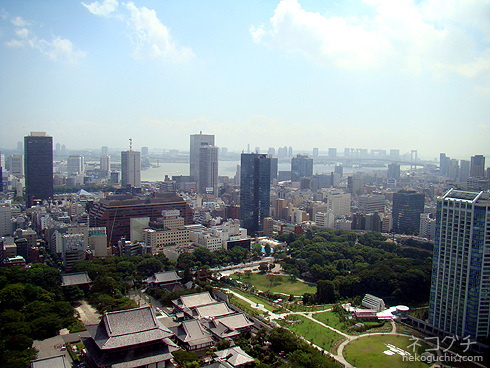 Zozoji seen from the top of Tokyo Tower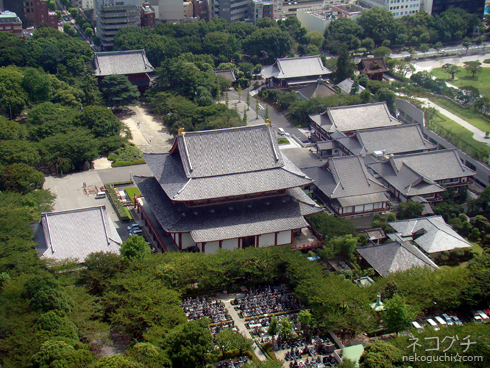 This one's taken at the grounds of Roppongi.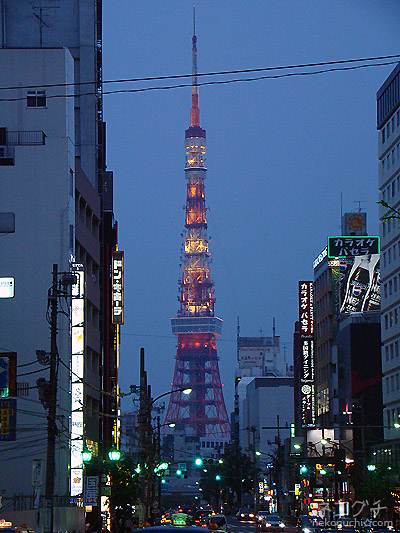 T.T. can be seen from many parts of central Tokyo. The photos here are mostly taken from the tower itself and the heliport, at the top of Roppongi Hills Mori Tower (yes that's the building with the dreaded news of a certain accident with its revolving doors).
From the top of Roppongi Hills.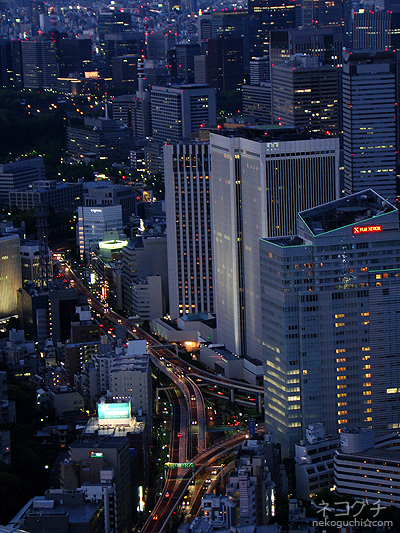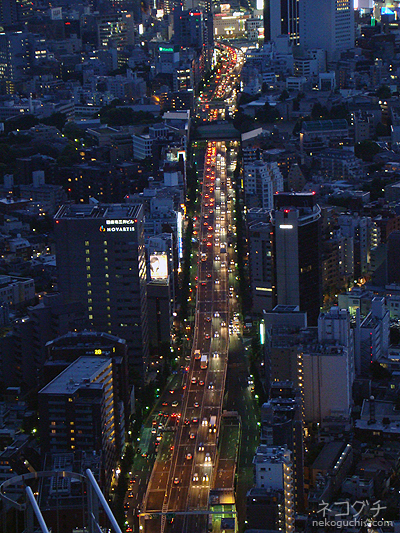 Aerial view – I love the clouds!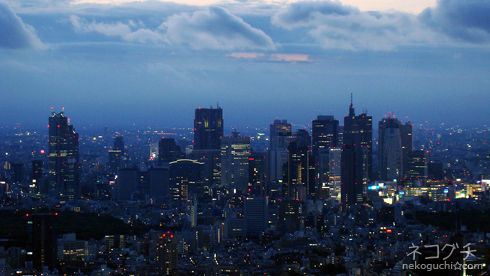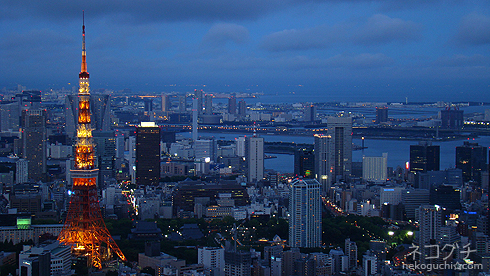 From the top, Tokyo's a breeze to admire and T.T. looked as serene as it can be. I remember hanging around at the top of the building until my fingers froze and hunger pangs beckons. . . The only thing's missing is Takeshi Kaneshiro's kiss. LOL! Man I miss the view. I'll definitely return despite being super irritated by the fact that you can't carry big bags to the top and they don't allow tripods (yeah so pardon the blur photos caused by wind & handshake) (;´Д`)
Tower @ Dusk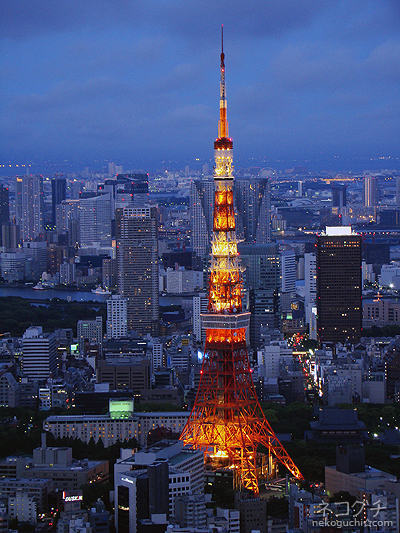 Getting darker. . .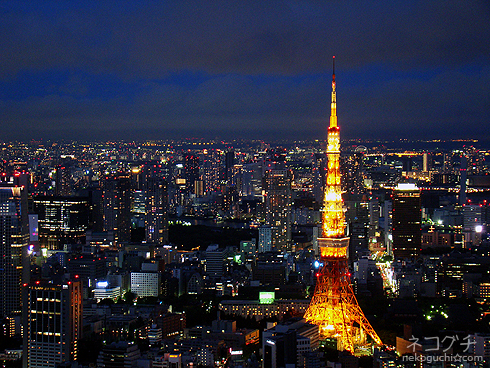 Night has fallen.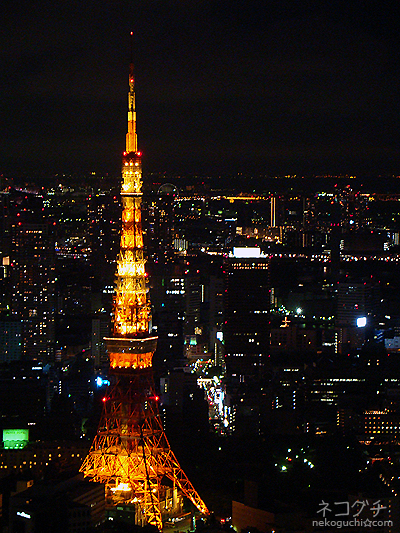 There are other ways to get to the tower itself. I went by the shortest – a mere 10 minute walk from Hamamatsucho Station which can be accessed by the JR Yamanote Line and or the JR Keihin-Tohoku Line. You'll arrive at Zozoji before reaching Tokyo Tower. There's also an aquarium, wax & illusion museums and other kinds of attractions at the tower itself.